IF YOU HAVE EVER been on the Santa Fe Plaza during the annual July 4th celebration, you've probably noticed this tall WWII veteran proudly sporting his pristine, original uniform. Dennis Ferk is out to make the record books–and live to be 140. It's with a mischevious gleam in his eye that he states "because of the work I've done with Dr. Skardis I just might make it."
At 91 years young he is well on his way– but he did not always feel so optimistic. During his 80's he found that a very long and active life had left him with some very painful souvenirs. Specifically acute pain in his rotator cuff, back and feet. So much that when his beloved spouse became gravely ill he found these conditions prevented him from providing her care.

A friend suggested he go to Dr. Skardis. The treatments resolved all the problem areas–and allowed him to be the caretaker he wished to be.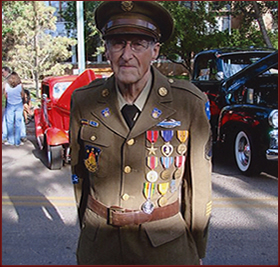 "People ask me who I know that can help them with their pain…I say the best man I've ever found is Dr. Skardis…he will take care of any pain that they may have."
Next time you see Mr. Ferk standing tall on on the Plaza be sure to say "hi".