This is just a quick September newsletter.
In a previous newsletter entitled Hiking!, Caitlin Peerson told her story of recovering from knee and ankle pain in order to return to high-end hiking. More recently, she updated us with a short message and some great photos from her most recent adventure:
"Wanted to let you know I finished a three week hike along the John Muir trail (a serious hike with significant elevation gain) and both my knee and ankle were strong and healthy! I felt stellar. Summitted Mt Whitney on Monday morning at 7am (following a 3:30 am departure, oy!) Thanks again for all your help along the way. I feel so lucky to have come across your work. My fellow hikers were so impressed with my PRP story."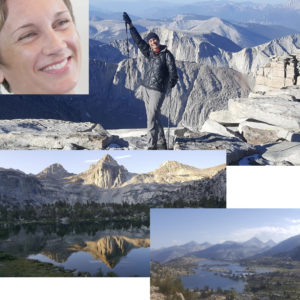 The name of our office is New Mexico Pain Management. I like to say it could be New Mexico Make You More Active Again Management. We repair joints by literally growing new collagen tissue in ligaments, tendons, fascia, fibrocartilage and cartilage. There is a world of information about this different kind of medical procedure at our website, NMPM.com. Go back and read more. When mentioning these PRP Stem Cell procedures to friends or family, focus their attention not on calling us but on reading very, very thoroughly at NMPM.com.
In the 70's and 80's, Annie Lennox was a rocker best known in the group Eurythmics. Solo albums from the 90's to now have been more complex and thoughtful. Her Nostalgia album in 2014 was composed of older standards, including September in The Rain:
Here are some of my photographs of the flowers of September. This year these bitter smelling yellow flowers really dominated Santa Fe. Here they are framing a recent sunrise: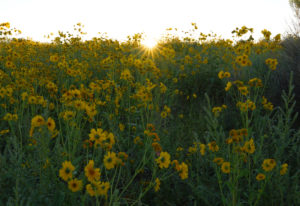 This year there are fewer of the purple flowers called asters: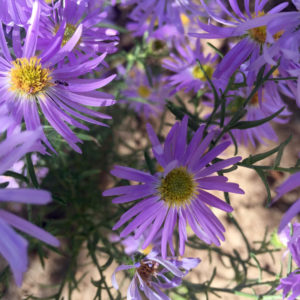 Peaking right now are our musky smelling chamisa: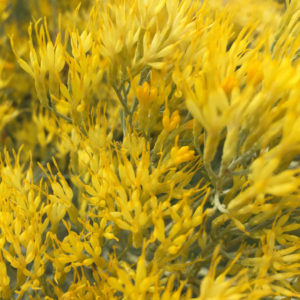 Have a great Autumn! And, if you can, walk around – hike even higher!
Dr. Jonas Skardis